Hackensack Meridian Health Theatre at the Count Basie Center for the Arts | Red Bank, New Jersey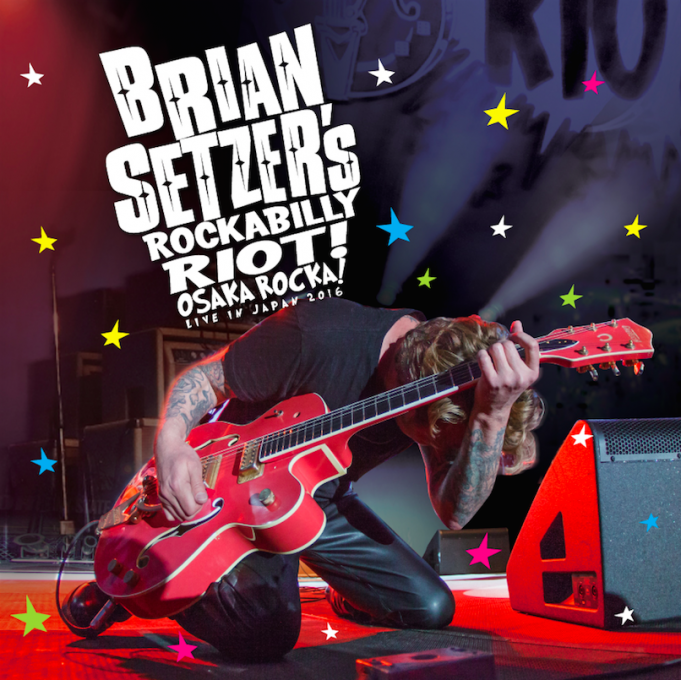 Snag those TICKETS now, dudes and dudettes! The one-and-only Brian Setzer is revvin' his engine up to bring his Rockabilly Riot! CONCERT tour to our very own Hackensack Meridian Health Theatre at the Count Basie Center for the Arts in Red Bank, New Jersey. Yeah, you heard right, that wicked blast from the past is playing right here on September 27, 2023.
Don't be a square, come and bask in that rad, retro vibe of one of the pioneers of the rockabilly scene. You know the drill, his live shows are not just a concert, they're an effin' TIME MACHINE taking us back to the days of swingin' beats and slicked-back hair. Get READY to JIVE to the OG Rockabilly vibes, featuring all his slammin' GREATEST HITS. We're talking "Stray Cat Strut", "Rock This Town" and way more in all their live, guitar-riffing glory and electrifying persona that only Setzer can bring.
Here's the skinny - this won't just be a concert, it will be an EXPERIENCE! The atmosphere, the thrill, the pure unadulterated joy of seeing Setzer jamming live–it's legit goosebumps inducing! Don't be a drag, don't miss this TOUR, 'cause it's gonna be one hell of a rush. Now go grab those tickets before they're all gone, baby gone!
Get ready, New Jersey posse, 'cos stuff's about to get wild! The iconic rhythm cat, the Lord of the Rockabilly Revival himself, Brian Setzer is bringing his rockin' Rockabilly Riot! on TOUR...and dudes and dudettes, we're stoked to reveal he's gonna roll into Red Bank come this September 27, 2023!
Man, it's gonna be a ball!
No joke, you're gonna flip when you see this Grammy-award winnin', finger pickin', and string slappin' rockstar live on stage. He'll be strutting his stuff like a peacock at the Count Basie Center for the Arts. Got your ticket yet?
Let's get real, we all crave for LIVE unparalleled energy, the raw grit, and kickin' vibe that only comes from a live rockabilly concert. It's wilder than a double espresso with a shot of Red Bull!
Brian Setzer? He's the MAN.
From the Stray Cats to his 19-piece orchestra, this dude's been rocking every joint he sets foot in for over four rad decades. Three Grammy Awards, chart-busting records, and smashing world tours, pals, this ain't some faded 80's poster boy. This man is living legend status.
He's bringing it. Are you?
Now about the venue, the Hackensack Meridian Health Theatre at the iconic Count Basie Center for the Arts. This place ain't just a celebrated music joint; it's a cultural epicenter making heaps of history since 1926. It's seen talent galore, from classic jazz musicians to hot rock bands, so you better believe it's got all the goods.
Let's talk acoustics – the Basie's got it sewn up. Amazing sightlines? You got it! Plush seating, state-of-the-art sound and lighting tech make it a primo place to catch a gig. And speaking of gigs, they've hosted like a gamut of previous legends. With this storied history, folks, we're in good company when Brian Setzer's Rockabilly Riot! concert drops in.
C'mon, it's time to stop living in your jammies watching Netflix reruns. It's time to let loose, embrace the riotous vibes, and howl at the moon! So put away that hair gel, strap on your dancing shoes 'cos the best rockabilly concert of the year is headed your way!
Trust us, you DON'T want to MISS out on this!
Get ready to strut, jump, jive, and wail when the King of Cool, Brian Setzer and his Rockabilly Riot! take the stage. SEIZE the chance, snap up a TICKET (or two), get yourself to the Count Basie, 'cos we're gonna RAISE the ROOF!
Live a little or live A LOT, but LIVE you shall at Brian Setzer's Rockabilly Riot. Get 'em TICKETS before they're gone! You in?