Hackensack Meridian Health Theatre at the Count Basie Center for the Arts | Red Bank, New Jersey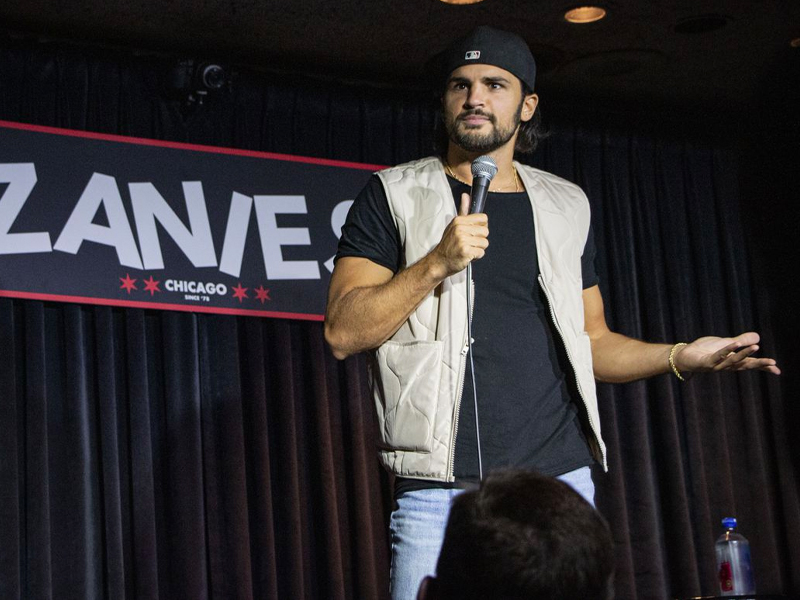 New Jersey comedy fans will be delighted this October 6 as the famous Hackensack Meridian Health Theatre becomes the venue of one of the highly-anticipated shows among comedy lovers this year. Your funny bone will thank you as you immerse yourself in the relatable and hilarious antics of the social media star Eric D'Alessandro. If you are a fan of his viral sketches and celebrity impersonations, you don't want to miss this show. With top-notch improv skills, the New York native knows no dull moment when he is on stage. His cleverness, wit, and immense talent for creating fresh materials made him stand out among the sea of comedians and internet personalities. The moment Eric holds the microphone, you are in for a comedy journey you will never forget. So laugh your way to the Hackensack Meridian Health Theatre this October 6 and witness Eric bring the house down with his never-before-seen comedy acts. Tickets are now for grabs, and you can get yours here by hitting the "Get Tickets" link.
Eric D'Alessandro is a New Yorker comedian who is among today's rising comics. He is known for his charisma, blunt comedic wit, and storytelling. With his comedic prowess, he stole many people's hearts. He showcases a unique style heavily influenced by his Italian-American heritage. If you want to watch a comedian who makes fun of relatable stuff, you should watch his live shows.
D'Alessandro started his comedy career on YouTube. He began posting in 2008. Since the start, his content has been composed of comedy skits. A year into his videos, he created a character called Maria Marie, a "typical girl" from Staten Island. This persona became a hit on social media. Apart from comedy, he also began dabbling in rap music. He then incorporated rapping into his content. As the years went by, D'Alessandro polished his style and expanded to new bounds of his comedy. He had sketches, celebrity impersonations, and song parodies. On YouTube, he had multiple local viral videos, loved by people for his accurate humor and impersonations of real people from the place. For more than a decade, his content entertained and connected to many people, which explains his strong following on social media and his sold-out shows.
With his career rising, he began receiving big opportunities. In 2016, he appeared in the movie "Nerve," starring Emma Roberts, Dave Franco, and Machine Gun Kelly. He played the role of Hype Boi. He also helped with the script of the movie. His Hollywood stint is still on the rise. In 2022, he appeared on the VH1 TV special, "Fuhgeddabout Christmas." He played Johnny.
Eric's videos went on to become hits on Instagram. Among his most viral is his song parody called "Where It Was," a spoof of Harry Style's "As It Was." It received over 45 million views on multiple social media platforms. Many of his videos continue to gain millions of views. Recently, his video ranting about bringing back minivans gained 14 million views.
Apart from his social media presence, D'Alessandro has dabbled in podcasts. He is a regular on KFC Radio, a Barstool Sports podcast. He can also be heard on the Dr. Drew podcast.
In terms of his stand-up comedy, he continuously sells out venues around North America. Currently, he is touring many cities nationwide. See Eric D'Alessandro at the Hackensack Meridian Health Theatre on October 6. See you there!