Hackensack Meridian Health Theatre at the Count Basie Center for the Arts | Red Bank, New Jersey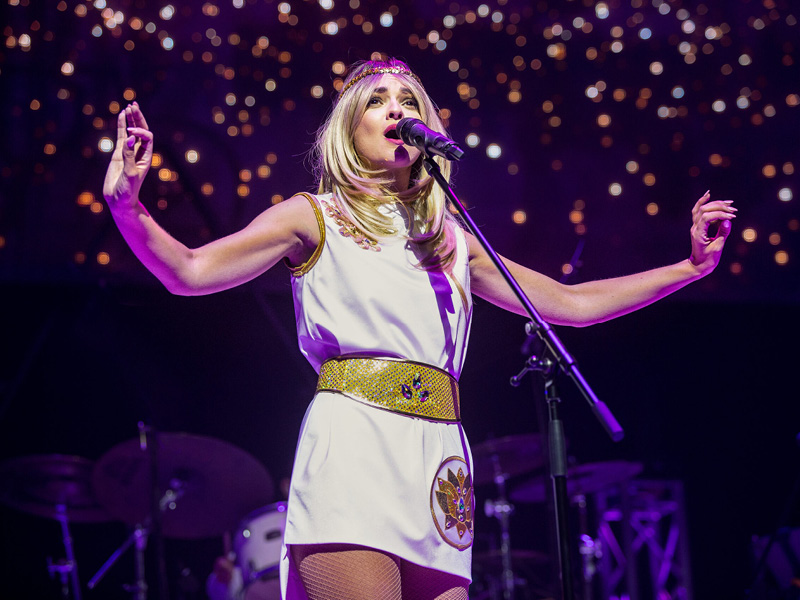 Direct from London's West End! And now on tour across the USA, comes a show that has been taking audiences on a time-traveling journey since as far back as 1999. Complete with a stage bursting with the nostalgia from easily the most recognizable bands ever, and one of the world's greatest-ever pop groups. This is not just a concert; it's a time machine to the golden era of ABBA. Get ready to groove and move because on Wednesday, November 1st, 2023, we're bringing you the ultimate ABBA experience: 'Mania - The ABBA Tribute' to Hackensack Meridian Health Theatre!
Let's cut to the chase, it's going to be the best ABBA tribute concert EVER! A concert extravaganza that'll have you dancing like a disco diva and singing your heart out! All while dressed in your grooviest '70s attire, and swaying to "Dancing Queen" in pure, complete pop bliss. The atmosphere will be electric, like a thunderstorm of pure joy. Get your tickets now because this is THE concert of the year! You know what to expect - "Waterloo," "Mamma Mia," "Gimme! Gimme! Gimme!," and a whole lot more! Beautiful, musical candy for your ears!!!
Close your eyes, and you'll swear that this really is ABBA, back in their prime, and boogieing down on the stage. The glittering lights, the iconic costumes, and the infectious energy will make you forget you're in New Jersey and transport you straight to Stockholm. As 'Mania - The ABBA Tribute' takes the stage, the crowd will roar with excitement. Like a lion's roar mixed with a thousand firecrackers - loud and electrifying! The show has been conquering stages from London to Berlin, Munich to Tahiti, and everywhere in between. They've even played to over 11 million viewers on a TV special! A once in a lifetime 30 year celebration of the iconic, 1974 Eurovision performance, and it even attracted original member Bjorn Ulveaus!!!
"Close your eyes, and it could have been ABBA!" says Sky News, and "This is the REAL Musical Tribute!" says the Sunday Mirror!
Taking over the Hackensack Meridian Health Theatre, and trust us, this venue's the bee's knees! Known for its top-notch sound system, ensuring you'll hear every note and feel every beat deep in your soul. A Theater with a Stellar Reputation! Hackensack Meridian Health Theatre is THE place to be for unforgettable shows. It's got comfy seats, epic acoustics, and an ambiance that'll make your heart skip a beat. Renowned for its impeccable service and fantastic amenities. From friendly staff to cozy seating, you'll be treated like royalty from the moment you walk in.
So, what are you waiting for? Don't be a "Super Trouper" and miss out on the concert event of the year. Grab your pals, get your dancing shoes on, and get those tickets now because this is gonna be "The Winner Takes It All"! Get your tickets before they're gone, and let's make November 1st, 2023, a night to remember!