Hackensack Meridian Health Theatre at the Count Basie Center for the Arts | Red Bank, New Jersey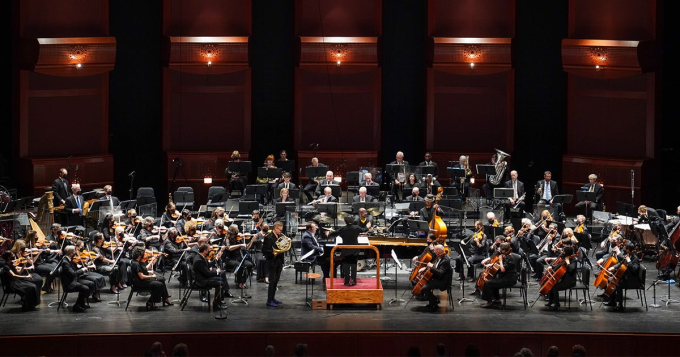 OMG, hold the phone! Is that the New Jersey Symphony we hear coming to the down? Heck, yeah it is and they're bringing on none other than Joseph Young to end all cellists performing Schumann's Cello Concerto live on TOUR. Mark your calendars and set your reminders for October 21, 2023, and head straight to Hackensack Meridian Health Theatre at the Count Basie Center for the Arts in Red Bank, New Jersey!
Face it, this Concert is gonna be totally LIT and you won't want to be kicking yourself for missing out. Seriously, #ConcertGoals for realsies. Grab your squad, snag YOUR tickets (you snooze, you lose) and get ready for an evening of super stellar vibes of orchestral symphony.
Remember that rush of feelings the first time you heard Schumann's Cello Concerto? That complete, total, and utterly overwhelming absorption into music? Brought to you by the genius hands of Joseph Young, you're gonna feel that rush ALL OVER AGAIN, maybe even more, as these iconic notes fill up the theatre.
So, come on peeps, let's kick back, vibe out and live that symphony life. For real though, this is gonna be a show that hits you right in your orchestral feels. Don't sleep on this one, y'all. We're talking MAJOR FOMO if you do! #SymphoniesAreTheNewRockConcerts.
Hey there, marvelous music lovers! Are you ready for a night that's gonna thrill your senses and send shivers down your spine? Clear your calendars on October 21, 2023, because the New Jersey Symphony is bringing the ONE and ONLY Joseph Young to rock the house at the Hackensack Meridian Health Theatre!
YES, YOU HEARD RIGHT! Joseph Young, the symphony conductor extraordinaire, will be leading a soul-stirring performance of Schumann's Cello Concerto. It's here, it's happening, and it's gonna be LIT!
This ain't just some snoozer; this is THE concert of the year! That charming cello, those swoon-worthy symphonies - all unfolding in an electrifying live concert experience that'll send your spirits SOARING! This is a show that simultaneously tugs at your heartstrings and injects adrenaline directly into your veins. AMAZING!
Let me paint a picture for ya, folks. The stage dims, the first note resonates, igniting the air with pure sonic majesty. The orchestra swells, bathing you in a lustrous cascade of sound. And at the helm? Joseph Young weaves a mesmerizing tapestry of music. This tour is your ticket to a rollercoaster ride of EMOTION, ENERGY, and sheer EUPHORIA!
Joseph Young's mighty prowess has bagged him big kudos with fans and building quite the reputation in the classical music world. His artistry? Top-notch. His energy? Unstoppable. His Schumann? Unforgettable. Believe this - missing out will cause some SERIOUS FOMO!
Oh, and let's not forget about the venue. The Hackensack Meridian Health Theatre at the Count Basie Center for the Arts - a place that drips with history, hums with culture and thumps with life. It's a perfect union of the classic and contemporary located right in the heart of Red Bank, New Jersey. This awe-inspiring venue is renowned for hosting jaw-dropping performances and offering sublime acoustics. The Basie, as locals affectionately call it, is the epitome of VIBES!
But hey, don't just take my word – get on that hype train, GRAB YOUR TICKETS NOW, and witness the enchantment yourself! October 21st is edging closer, and these tickets are selling like HOT CAKES! Don't dilly-dally, folks. Get strapped in and prepare for a mind-blowing musical journey that promises more than just a night out - it's an EXPERIENCE!
So, are you ready to rock with Joseph Young and the New Jersey Symphony? TICKETS ARE SELLING FAST! Grab yours NOW and prepare to be absolutely BLOWN AWAY! Make no mistake – this is a concert you will NOT forget!