Hackensack Meridian Health Theatre | Red Bank, New Jersey
Oink! Peppa, George, Mummy Pig, and Daddy Pig are inviting everyone to their special sing-along party! So, better get the little ones ready for a fun-tastic adventure of singing, dancing, and playing around with Peppa and the whole gang on this brand-new Peppa Pig Live stage production. The whole bunch along with Pedro Pony, Suzy Sheep, and Gerald Giraffe are set to blow up some balloons and play their favorite party songs in this one-of-a-kind spectacle for the whole family. As the disco ball comes shining down, Peppa Pig is making her way to Hackensack Meridian Health Theatre on Thursday, 14th of December 2023. Everyone's definitely up for a musical adventure led by the cheeky English pig with her family and friends.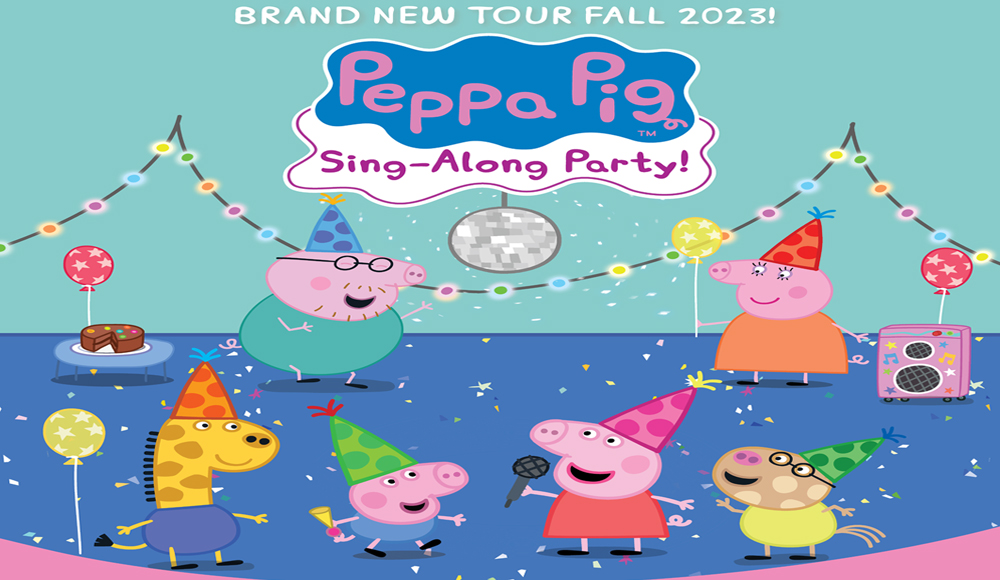 Making rounds across the world for her saucy persona and cheeky antics along with her adorable British accent, Peppa Pig became an icon for her iconic adventures while teaching the little ones a lesson or two. Quickly becoming the world's #1 most streamed preschool show, the Hasbro eOne production airs in over forty languages globally, recognized as Nick Jr.'s "Crown Jewel".
Following the success of her live stage shows, its producers are back with a brand-new spectacle for families to enjoy. Peppa Pig Live! presents Peppa Pig's Sing-Along Party!
The highly-anticipated new installment to the show's live treks will bring Peppa, George, Mummy Pig, and Daddy Pig to a sing-along party, inviting the little ones to sing, dance, laugh, and jump along with their friends. Joining the party are Pedro Pony, Suzy Sheep, and Gerald Giraffe. Everyone's invited to pop some balloons and dance along to the disco ball.
"After a successful run of Peppa Pig Live! Peppa Pig's Adventure we couldn't be more excited to partner once again with our friends at Round Room Live to bring a brand-new production to fans of Peppa," Matt Proulx of Hasbro shared. "With this new immersive show, we are continuing our Blueprint 2.0 strategy of delivering more meaningful ways for families to connect with our beloved brands. Whether they follow along with the series, come to the live show, or visit a Peppa theme park, we're thrilled to build on our offerings for Peppa fans and their families. We cannot wait for guests to see this new show, and to create lifelong memories with Peppa and her friends."
With much anticipation from families for another live Peppa Pig adventure, this sing-along party hopes to bring the little ones some great memories to remember with Peppa and her friends. Nothing's more special for a child than to catch her favorite cartoon characters come to life, right?
"Peppa is such a beloved character and we're proud to continue to offer new, engaging, and memorable experiences for Peppa fans all over the world," shared Stephen Shaw of Round Room Live.
So, better get the whole fam's vocal cords ready as Peppa takes you on a memorable night of singing and dancing at Peppa's sing-along party live at Hackensack Meridian Health Theatre on December 14th. Book your tickets now!