Hackensack Meridian Health Theatre | Red Bank, New Jersey
Off of your TV screens and onto the live stage, get ready to win big as you score the chance to spin the iconic wheel at Wheel Of Fortune Live! One of America's oldest and most loved game shows to exist, the show is coming to audiences live on stage at Hackensack Merdian Health Theatre on Sunday, 5th of November 2023. As "America's Game" calls random audience members live on stage to spin a full-sized replica of the Wheel, all shots are called to win huge prizes from the show's producers. At Wheel Of Fortune Live, everyone's in for a chance to win holidays in Paris or Hawaii, up to $10,000 in cash, and an array of big prizes up for grabs. Take advantage of this chance to step into the show right at your local theater! Get ready to spin that wheel by booking those tickets now!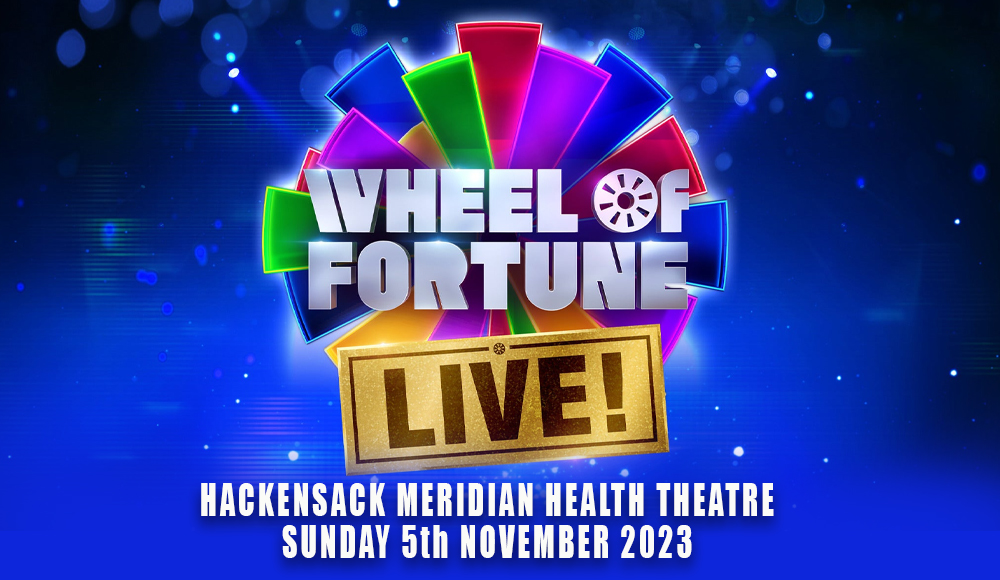 On its 40th season since premiering in 1975, Wheel Of Fortune is hitting the road, coming to you live at a theater near you! With millions of fans across the nation, the iconic TV game show is coming off of your screens and onto the live stage as it invites audiences to come right up the stage and spin the iconic Wheel. With a chance to audition and be randomly selected to come up the stage, all shots are called as big prizes are at stake.
The lucky ones will be called to head on stage, solve puzzles, call consonants, buy vowels, and give their best shot at taking home huge prizes including trips to Paris or Hawaii, $10,000 in cash, and other exciting goodies! They'll definitely "feel like they stepped into the game show itself" as the tour promises. Boasting an "all-new theatrical experience", audiences right at their seats also have the chance to win big at Wheel Of Fortune Live's special giveaways.
Though Pat and Vanna aren't gonna be present at the tour, Right Angle Entertainment promises, the show's producer in partnership with Sont Pictures Television and UTA, promises a live experience like no other!
"This partnership with Right Angle presents an opportunity to expand our reach to give more people a live experience as close to being on the televised show as you can get without actually being in the studio," shared Suzanne Prete, Executive Vice President, Game Shows for Sony Pictures Television. "We look forward to providing this incredible local immersive experience to people who might not otherwise make it out to Los Angeles to be on the set with Pat and Vanna." as cited in Forbes (2022).
As Pat and Vanna continue to host its live TV run, Wheel Of Fortune Live! is offering you the chance to step right into the show itself, right in the comfort of your hometown. Who knows, you might score that trip to Paris! Although that $10,000 offer sounds tempting too…
Well, better get your tickets and audition right before the show to get that chance to spin a life-size replica of the iconic Wheel! If you're on the shy end, don't fret! You have the chance to win big, right at your seats! Special giveaways and audience participation are some of the live show's big surprises.
Don't miss out on Wheel Of Fortune Live! at Hackensack Meridian Health Theatre by booking those tickets now!